Luisaviaroma is a luxury fashion concept store, which Luisa Jacquin first opened in 1930, for Italy's most fashionable women. The website was launched in 2000 and is now available in eight languages. They partner with companies such as Fiat, Puma, Adidas, Lacoste, Coca-Cola and other brands to organize special fashion events.
In 2020, they are expected to repeat the 30% growth in revenue they saw in 2019.
The Challenge
Acquire new clients in Italy, the US, and the Middle East to extend reach.
Maximize post impression assisted conversion with a strong click through rate.
The Solution: Cross-Publisher Auction Packages
In order to promptly unlock premium inventory in several countries, extend reach and meet objectives, Luisaviaroma decided to create 100% custom cross-publisher auction packages with semantic contextual targeting on the Smart Buyer Connect (SBC)  platform.
This proved to be an easy-to-activate lever that helped to improve campaign performance while reducing setup time.
Luisaviaroma used SBC to shorten the programmatic chain and get premium inventory at a great price, with the addition benefit of a cross-publisher contextual targeting feature.
Today third-party cookies are disappearing and marketers always look for new ways to target across programmatic platforms. SBC is a good example of how to shorten the programmatic chain to get good inventory at a good price with new cross-publisher contextual targeting. 
Smart supported me in the whole process of training on their new platform (very user-friendly) with their global team and followed me step-by-step, advising on best practices with Senior Sales Manager Serena Maerna. I found Smart to be an up-to-date martech player with a very nice and experienced team.
Marco Antognozzi, Senior Display & Programmatic Specialist – Luisaviaroma
The Results
0,01€ CPV vs a target of 0,05€, lower than other single-publisher deals with Luisaviaroma.
An average viewability rate of 64% (with peaks of 85%). 
An average completion rate of 60%.
Very good average CPMs: 1,6€ for display and 5,3€ for video.
Successfully raised the average CTR above 0.50% on IAB standard formats.
5 million impressions delivered in five months.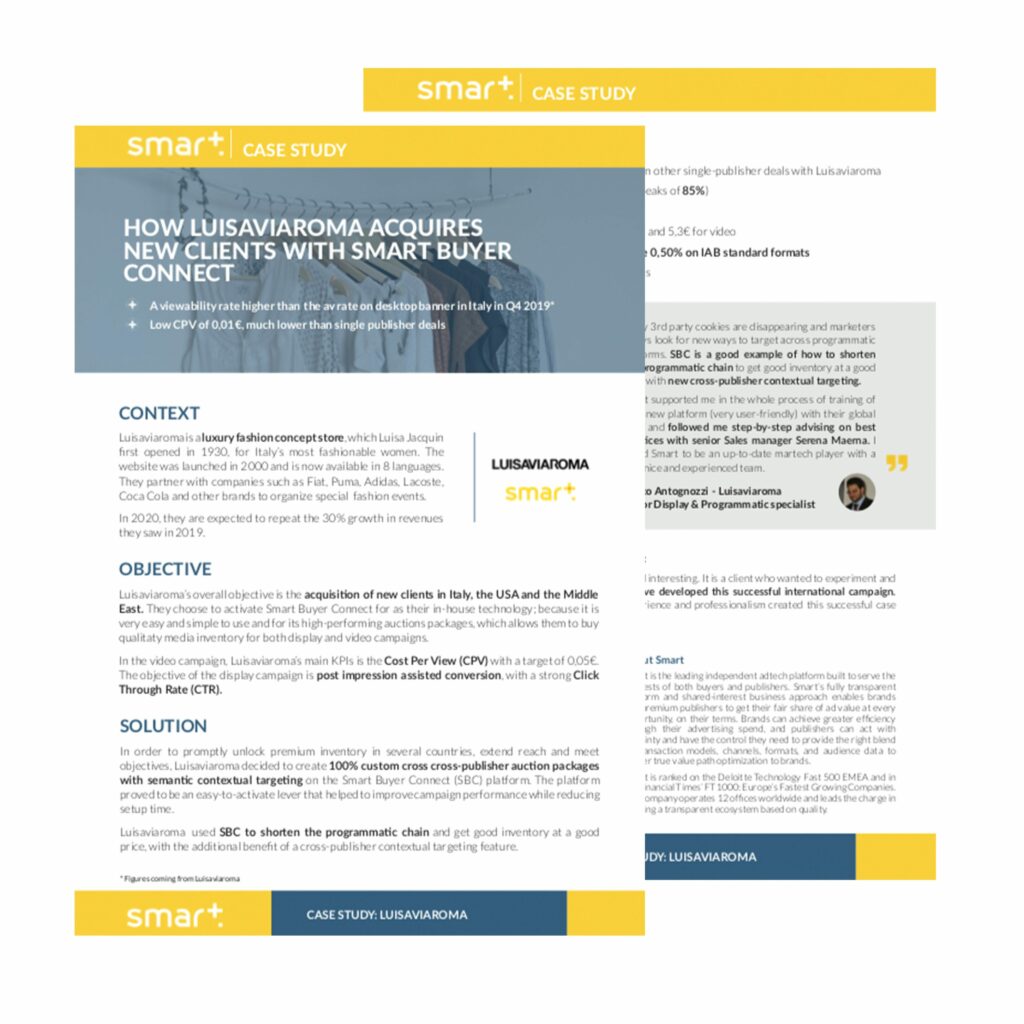 Download the Case Study
Interested in learning more about Smart Buyer Connect?