Winter Adtech Virtual Event : Smart, Samsung Ads, LiveRamp, MediaMath, Captify et MadHive créent leur festival virtuel de la publicité et des médias.
Communiqué de presse – Paris le 12 Novembre 2020
Après le succès du Summer Adtech Virtual Event en juillet dernier, Smart, Samsung Ads, LiveRamp, MediaMath, Captify et MadHive s'associent pour organiser la deuxième édition du festival. Gratuit et accessible à tous, le Winter Adtech Virtual Event se tiendra du 7 au 9 décembre prochain.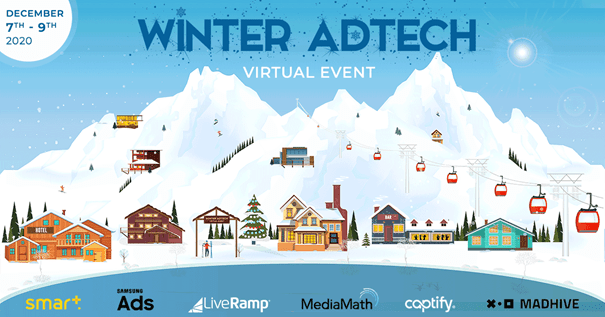 Alors que les occasions de se rencontrer « en personne » auront été rares cette année, l'écosystème de la publicité digitale continue d'évoluer et de nombreux sujets clés vont occuper les acteurs du secteur dans les mois à venir. Télévision connectée, données utilisateurs, économie du consentement, private marketplaces ou encore optimisation de la chaîne de valeur figurent parmi les principaux défis et opportunités qui inspireront les échanges.
Le Winter Adtech Virtual Event se déroulera au sein d'une station de ski privative virtuelle dans laquelle Smart, Samsung Ads, LiveRamp, MediaMath, Captify et MadHive accueilleront les convives – clients, partenaires et amis. Au programme de l'événement : une quinzaine de conférences et de tables rondes qui réunira des experts du marché pour partager leurs points de vue et débattre des principaux thèmes de l'écosystème publicitaire digital.
« Notre industrie ne dort jamais et c'est ce qui la rend si fascinante, commente Arnaud Créput – CEO de Smart. La publicité digitale évolue rapidement et, dès lors que la complexité ne cesse de croître, il est plus important que jamais de se réunir pour apprendre, partager des idées et unir nos forces pour trouver les bonnes solutions. C'est la raison pour laquelle nous nous sommes associés à des partenaires pour créer le Winter Adtech Virtual Event. Rejoignez-nous et prenez part à la conversation avec un chocolat chaud et une couverture confortable… de chez vous ! »
Les inscriptions, le programme actualisé, l'agenda et les intervenants de ce festival coopératif sont sur le site de l'événement.
A propos de Smart :
Smart est une plate-forme de monétisation publicitaire de premier plan conçue pour les éditeurs premium afin de servir les acheteurs les plus exigeants. Notre plate-forme totalement transparente et notre approche commerciale à intérêts partagés permettent aux éditeurs et aux marques premium d'obtenir leur juste part de la valeur publicitaire à chaque opportunité, à leurs conditions. Les éditeurs peuvent agir avec certitude et avoir le contrôle de toutes les variables pour obtenir le bon mélange de modèles de transaction, de canaux et de formats, tout en activant les données d'audience appropriées pour l'optimisation du chemin de valeur. Smart travaille directement avec plus de 1 000 éditeurs au niveau international, parmi lesquels Le Monde, Groupe Marie Claire, TracFone, Le Figaro, Leboncoin, Altice Media afin de diffuser des publicité display, vidéo, natives et rich media sur plus de 50 000 sites et applications.
Smart, avec 12 bureaux dans le monde entier, contribue à créer un écosystème transparent basé sur la qualité.
Smart est une société certifiée conforme au RGPD par le spécialiste indépendant de la protection des données, ePrivacy GmbH.
About Samsung Ads
Samsung Ads delivers advanced TV advertising at scale. Our smart TV advertising solutions are built on a unique source of TV data from more than 34M Smart TVs across Europe. Samsung Ads provides the holistic view advertisers need, connecting linear, OTT, and gaming to help brands see the total advanced TV picture. Brands turn to our managed service and programmatic offerings to achieve incremental reach, compliment linear TV campaigns, manage frequency, find difficult-to-reach audiences and most importantly, measure outcomes. Launched in 2015, Samsung Ads has offices in the United States, the United Kingdom, Germany, Canada, South Korea, and Australia. Samsung Ads is a division of Samsung Electronics and is the #1 TV manufacturer globally.
About LiveRamp
LiveRamp is the leading data connectivity platform for the safe and effective use of data. Powered by core identity capabilities and an unparalleled network, LiveRamp enables companies and their partners to better connect, control, and activate data to transform customer experiences and generate more valuable business outcomes. LiveRamp's fully interoperable and neutral infrastructure delivers end-to-end addressability for the world's top brands, agencies, and publishers. For more information, visit www.LiveRamp.com.
About MediaMath
MediaMath helps the world's top brands deliver personalized digital advertising across all connected touchpoints. Over 9,500 marketers in 42 countries use our enterprise software every day to launch, analyze, and optimize their digital advertising campaigns across display, native, mobile, video, audio, digital out of home, and advanced TV formats. Founded in 2007 as a pioneer in « programmatic » advertising, MediaMath is recognized as a Leader in the Gartner 2019 Magic Quadrant for Ad Tech and has won Best Account Support by a Technology Company for two years in a row in the AdExchanger Awards.
MediaMath initiated an industry-wide effort to create a 100% accountable, addressable and aligned supply chain through the SOURCE ecosystem. SOURCE by MediaMath is a constellation of agencies, brands, tech companies, and content owners designed to provide long-term sustainable solutions for a modern digital media supply chain with quality brand-safe, viewable inventory inside of a flexible, future-proofed platform that converts impressions into ROAS at scale. MediaMath has offices in 15 cities worldwide and is headquartered in New York City. To learn more about how MediaMath helps innovative marketers delight their customers and drive real business outcomes, follow us at @mediamath or visit www.mediamath.com
About Captify 
Captify is the largest holder of consumer search data outside of Google, and its unique technology understands the intent of consumers across all channels, including voice Search, desktop on-site search and in-app search. Captify's privacy-centric Search Intelligence technology powers programmatic advertising and unique audience insights for the world's biggest brands, such as Apple, Disney, Adidas, American Express and Microsoft.
About MadHive
MadHive is an enterprise software platform that powers modern media. MadHive's platform provides tools for audience forecasting, precision targeting and activation, and cross-screen attribution against its proprietary household-first device graph. Customers include advertisers that leverage MadHive's next-generation cryptography and AI to prevent fraud and increase margins, and broadcast giants that rely on the platform to power their linear reach extension offerings.