Advertisers and publishers: Coping with the Covid19 crisis
COVID-19 has strongly impacted global markets. Advertising budgets have been cut and are jeopardizing publishers' revenue.
The COVID-19 epidemic is undoubtedly an unprecedented experience for everyone and is upsetting our everyday habits. To aid publishers during this uncertain time, the Smart Analytics Team has performed an analysis of market behavior to establish current benchmarks and identify tactics that publishers can leverage. Let's review some insights that could help publishers and advertisers coping with the crisis.
1 – Some publishers have been impacted less than others. What can we learn from them?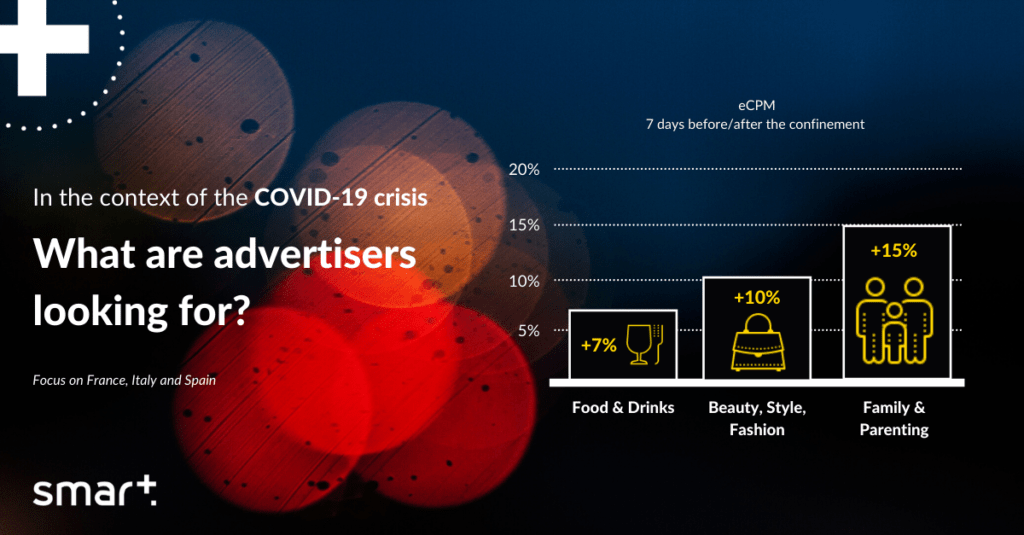 Our analytics team focused on three specific markets, those massively affected by quarantine. These are Spain, France, and Italy.
We can see that in these three markets some publishers are less impacted than others. There is even an increase in ECPM in 3 main categories since the confinement announcement:
+ 15% in the family and parenting segment
+ 10% Beauty, style, fashion
+ 7% Food and drinks
And this over a period of 7 days before and after confinement. Some brands have shifted their message but keep on investing to stay top of mind, and especially in inventory with high demand due to confinement.
2 – Who are these advertisers?
Our analytics team also looked at the type of advertisers who are adapting to the crisis and maintaining their investments. What emerges is that four types of advertisers stand out during this crisis:
Video Games and online entertainment: This category of advertiser even goes as far as launching new campaigns because video on demand platforms or online games are in great demand at the moment.
Governments and institutions: They have recently launched major campaigns to communicate on the new measures to be adopted
Online shopping: Major brands maintain their campaigns despite an increase in delivery times, but only pure e-commerce players.
Telcos and consumer electronics: These types of buyer also launch campaigns with messages like "stay in touch" and takes advantage of this quarantine time to promote remote contact.
3 – What's now?
Clearly many brands are trying to reposition their campaigns right now, and it could take time. Brands are cautious with their messaging because public opinion is particularly sensitive during such a crisis, and they will likely need to avoid being seen as opportunistic or insensitive.
The Smart team is here to help. Let us know if we can assist as you cope with this crisis and prepare for recovery.
For more information about our solutions do not hesitate to contact us