Advertisers and Publishers, define your ideal marketing strategy with 1st, 2nd and 3rd party data
Marketers rely on accurate data in order to achieve precise targeting of their messages. To fully understand what makes data reliable, it's important to understand the different classifications of data.
Indeed there are 1st, 2nd and 3rd party data which each have specific definitions.. Reliability will vary between the quality and scope of the data. Quality is understood by the proximity, richness, relevance or even accuracy of the data.
In this article, we help you better understand the distinction between 1st, 2nd and 3rd party data in order to serve the objectives of your campaigns.
1 – What is 1st Party Data?
First-party are those that are owned by advertisers or a publisher. This is data collected on their own website, e-commerce or even at points of sale or events. This is data which, for example, is compiled in a CRM after the organization of trade fairs, the request to download a white paper or even an online demonstration request.
This is generally declarative data since it is entered by the user himself on a website. It may also be behavioral data using cookies that can analyze the browsing modes or the interests of the visitor. This type of data allows you to determine your buyer personae and therefore your preferred target for your future digital campaigns in order to increase performance and engagement.
But there are some differences between the first-party data of an advertiser and a publisher. When agencies or suppliers speak of "proprietary data", they are referring to the data of an advertiser. On the other hand, often when a publisher refers to first-party data, he is referring to his own data because he has that data. The simplest way to differentiate them is simply to specify the publisher's data or the advertiser's data.
1.1 – What is an advertiser's first-party data?
As we mentioned above in the introduction, the owned data of an advertiser will include elements such as customer e-mail addresses, purchase histories (if it is an e-commerce site) or actions carried out on the site. Many e-commerce sites, for example, can use their first-party data to push products that they think their users are likely to buy on the home page.
To conclude, even if there are varying degrees of value in the first part data (for example demographic, interest or even intent), ultimately all its data will only be valid if they come from a known source, are reliable, and meet compliance standards. Having such reliable data allows advertisers to safely target audiences in the market with personalized ads on the web or to find similar audiences.
1.2 – What is a publisher's first-party data?
As for the first-party data of a publisher, they will most often gather behavioral information which is collected around its different properties. This type of data will then be used for the purpose of targeting advertisements on behalf of advertisers. The first-party data will allow publishers to maximize the value of their inventory, and at the same time, fuel the personalization of the site and then be sold separately via data markets.
Supplementing their audience data with advertiser's proprietary data gives them the ability to provide more precise targeting options to advertisers in order to increase inventory value and maximize the value of that same data in the data markets.
2 – What is second-party data?
Second-party data is data held by one of your business partners and to which you have access under a contract. In a few words, the second party data represents the first-party data of a partner company with which you collaborate for win-win data sharing. The goal of the second party data is, therefore, to your first-party data to make your campaigns more effective.
The purpose of this type of relationship is to foster trust and collaboration between the two parties, but this can only be achieved if the two parties are not in competition to avoid conflicts of interest.
There are a few drawbacks to note, in fact, since you are not the owner of the data, you have less control over the quality and the channel by which the data is collected, unlike first-party data. In addition, the scope of 2nd party data is again limited to the scope of your proprietary data partners.
Despite a disenchantment and an announced end to second-party data, it still remains essential data for the media. In fact, most DSPs use and make available this type of data on their platforms to facilitate targeting. And DMPs, as long as they encourage the creation of segments from third-party data, allow free analysis and modelling of the data.
2.1 – What is the difference between an advertiser's second-party data and a publisher's?
The key difference to remember is that publishers sell second party data and advertisers want it. Indeed, as seen previously in the definition of second-party data, it is essentially first-party data held by another company, such as a publisher.
There are several ways for a publisher to offer this type of data to advertisers as they do with third-party data. One is to associate it with data held by an advertiser, who will then use the combined data set to reach known audiences as well as new, similar audiences on the publisher's sites. For the second, an editor will delimit specific data from its inventory and sell it to advertisers who aim to use it to reach audiences on other sites they don't own.
3 – What is 3rd party data?
Third-party data is data purchased from external providers called data aggregators and is intended to supplement your first and second-party data. In particular, they allow you to access behavioral data to consolidate the segmentation of your audiences. For example, a third-party data provider may pay publishers to allow them to collect information about their visitors and use it to piece together detailed profiles of users' tastes and behaviors when they are on the web.
One of the main advantages is access to mass data already categorized since its professionals form many partnerships which allow you to save significant time. This information can then be sold to advertisers to help them target their ad purchases.
However, this is data which, from a contractual point of view, may be accessible to your competitors, which does not allow you to obtain a unique audience intelligence.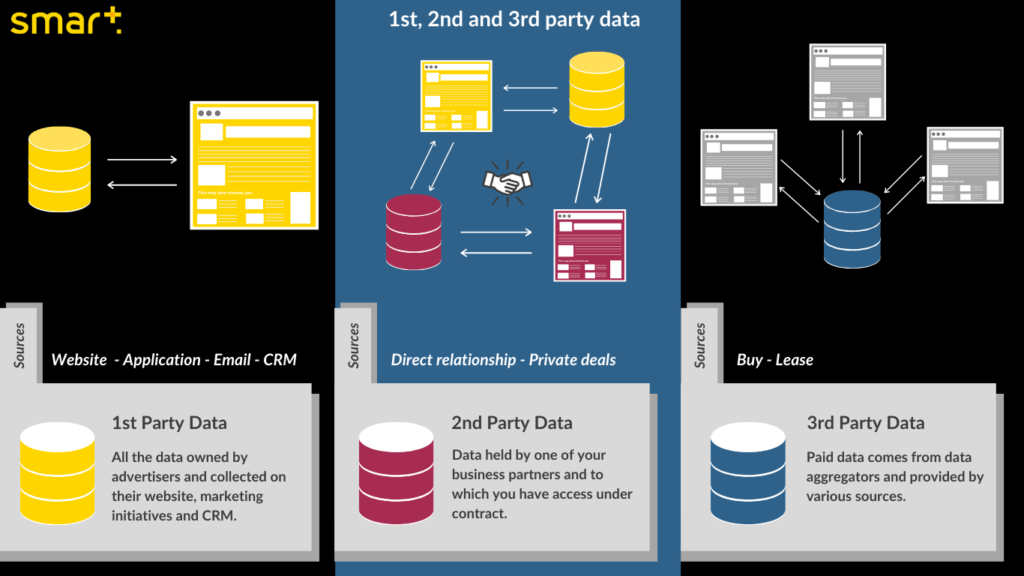 4 – What is the ideal strategy?
To develop an effective marketing strategy, many market players tend to combine different sources of data acquisition. Indeed, the collection of all types of data helps marketers gain insight into how their targets and users interact with them through different marketing channels. But there are still a few steps to follow to develop a good marketing strategy and get the most out of your campaigns.
Here are some elements to define your strategy:
4.1 – Define your target audience with your 1st party data
The first fundamental step to define your marketing campaigns is to collect your own customer data on your website using a form for example. This type of data can be characterized by basic information data (first-party data)in the form of different characteristics that make up your target:
First name
Last name
E-mail
Company name
Activity on your website
This information is then stored in your CRM (Customer Relationship Management platform) and will allow you to define your first segments and purchasing behavior.
If you want your 1st party data to include a more detailed understanding of the interests of your target, you can capture more information by inserting additional fields in your web site capture form.
4.2 – Target your audience with 2nd party and 3rd party data
If we assume that you are exchanging 2nd party data with one of your partners and buying 3rd party data from a data aggregator, you must link all of your data (2nd, 3rd) to the behavior of your customers' purchases (1st). This grouping will allow you to define customer segments.
These segments will allow you to understand a lot about your audiences. Using 2nd party data, you will have an overview of your customers' behavior on the web, the sites they visit clicks made or how long they stay on the website. 3rd party data will allow you to complete your segments with demographic and behavioral data.
This combined information now allows you to create a much more complete picture of your client in order to optimize your targeting.
4.3 – Optimize your strategy
Now that your segments are defined you can optimize your marketing strategy and target your targeting.
With the combination of your data and its segmentation, you can launch highly personalized advertising campaigns on different channels.
Strategic use of data targeting and segmentation can enhance campaign performance and efficiency by maximizing the relevance of the audience and the messaging.
4.4 – Analyze the data of your campaigns and repeat
It is important to analyze the results of your campaign to understand if your audience segmentation is effective. To do this, you can follow the ROI indicators, for example on the profile of customers who have converted.
This analysis will allow you to understand if your audience segments are effective or if you need to review them.
Repeat the process until your campaigns perform and do not hesitate to question them if you no longer reach your goals.
To conclude, an effective marketing campaign involves a combination of different data (1st, 2nd, 3rd). Keep in mind that it is essential that your data is of good quality and, above all, it is secure and sourced from reliable partners or suppliers.
For more information about our solutions do not hesitate to contact us