Years of transnational and local privacy regulations like GDPR, France's CNIL and Germany's BGH, combined with technical frameworks and partner interpretations like the IAB's Transparency and Consent Framework (TCF) have set the stage for a new era of consent in the industry. Last year's implementation of TCF v2, which enables consumers to grant or withhold consent and exercise their right to object to data being processed, now requires consent in order to use display cookies and personal data to serve personalized ads.
New strategies will be required in order to successfully navigate this new consent economy and solutions do exist for complying with data protection requirements and user choice while ensuring the best possible ad delivery and monetization.
Differentiating Depending on Consent: Our Position
In this new world, data processing and ad delivery will differ depending on consent and each provider's position in regard to TCF v2 has the potential to impact your results. Our interpretation of the TCF v2 means consent isn't a requirement to display ads.
It's true that some features become unavailable within the ecosystem when consent is not given or missing, including:
Personalized ads in both programmatic and direct (based on 1st or 3rd party audience data)
Precise location targeting (GPS data)
Frequency capping based on user ID
Unique visitor reporting
Conversion measurement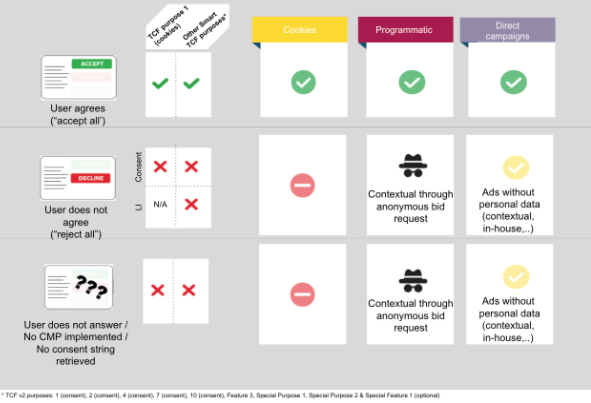 But, CMPs are not ad blockers. Publishers still have options to continue to display ads and monetize non-consented inventory in full compliance with user choices.
When user consent is given, data can be processed and personalized ads can be served. However, it's unlikely to ever get 100% consent. Up to 15-20% of traffic may already be lost to publishers using technologies that block ad delivery with no consent string, or in cases of negative user consent, underscoring the importance of calculating potential monetization risks.
Without user consent, cookies can not be stored nor can user data be processed. But, other solutions exist that can be easily adapted to user choices, enabling publishers to recover some of their revenue losses due to missing consent.
Monetizing Non-Consented Traffic: Our Solution
Our products and features can be adapted to users' choices and Smart does not act as an ad blocker. In cases without consent or cookies, we offer a range of targeting capabilities to provide buyers an enriched offer that maintains campaign performance.
Features available when consent is not given or missing:
Smart proprietary cookieless targeting suite: semantic contextual targeting featuring natural language processing algorithms available in over 200 categories and in seven languages. We also offer predicted views performance targeting and video completion targeting on programmatic.

Unified auction: allows for holistic competition between our ad server, our SSP, and header bidding demand.

Direct: direct campaign and in-house with all targeting criteria not based on user ID – device type, browser, OS, etc. Keyword targeting is also an option with keywords pushed at the publisher's discretion in compliance with their privacy rules.

Programmatic: open auction, programmatic deals, and programmatic guaranteed without user personal data. Without consent, DSPs are called with anonymized bid requests.

Reporting (doesn't require personal data):
Delivery context – site, placement, format, device, keywords, browser, etc.
Performance metrics and associated rates – click, viewability, completion, etc.
Monetization metrics – impressions, revenue, CPM, etc.
Our TCF v2 positioning is aligned with publishers' interests and our solutions can be easily integrated in three ways whether you only use our SSP or use our ad server + SSP – through header bidding, full-stack, or header bidding + full-stack.
To avoid potential revenue loss, it's important to ensure you are monetizing all traffic types. With the consent economy in constant flux due to the addition of new privacy regulations and users becoming increasingly aware of data usage, addressing non-consented inventory provides a path for buyers to access untapped inventory in a premium environment.
---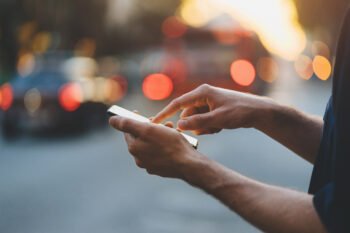 Looking for the monetization solution that's right for you?