More than 200 million Americans (about 70% of the U.S. population) now live in states with legalized medical or recreational Cannabis use. Last year, Americans spent $18 billion on legal weed, which is 67% more than they spent in the previous year. And, New York State's recent announcement of a plan to legalize recreational marijuana use is just the latest evidence of a budding industry that's quickly blazing past regulatory hurdles.
Clearly, consumers have already embraced legal Cannabis and CBD products. It's time for the online advertising world to do the same, particularly because like all other retail, Cannabis sales have largely pivoted to e-commerce in the wake of the pandemic. Case in point, the brand Dutchie has reportedly seen a 700% surge in online orders over the past year. Even publishers like WSJ.com are now running CBD advertising.
Cannabis brands face an enormous opportunity to capitalize on this growing market with digital advertising. Programmatic advertising offers brand the flexibility to test and explore digital opportunities. It's an important tool to drive engagement, expand their footprint, and generate conversions – regardless of budget.
Why Should CBD & Cannabis Brands Go Programmatic?
Scale: Programmatic is a powerful solution to quickly display a high volume of ad impressions, which can be difficult to achieve offline due to regulation. Advertisers can stay on top of opportunities to reach new audiences as supply platforms help publishers realize the potential of opening up inventory.
Relevant Audiences: For Cannabis brands, programmatic can provide access to related content areas, such as health and wellness, and to high reach publications.
Incremental Audiences: Programmatic helps brands go beyond niche audiences to identify opportunities connected to changes in consumer behavior.
Profitability: Using programmatic pipes enables advertisers to measure and optimize their ad investment to define the most effective path. Programmatic can also reconcile online and offline data.
Compliance: Programmatic platforms can help brands ensure targets are of legal age and that ads are compliant based on location.
Agility: Brands can test, monitor, learn, and adapt based on the campaign's success. With technology and consumer media habits continually changing, advertisers can use programmatic to connect with users where they are most willing to engage across all channels – including CTV and connected devices.
What Challenges Remain?
Scale: Cannabis related ads remain blocked by some major players – including social media.
Performance & Measurement: Programmatic can be complex and it requires the right level of expertise, tools, and alignment within the ad tech chain.
Unpredictability: Programmatic is an ever-moving field in which flexibility is mandatory, as evidenced by the upcoming cookie apocalypse.
We Make It Easy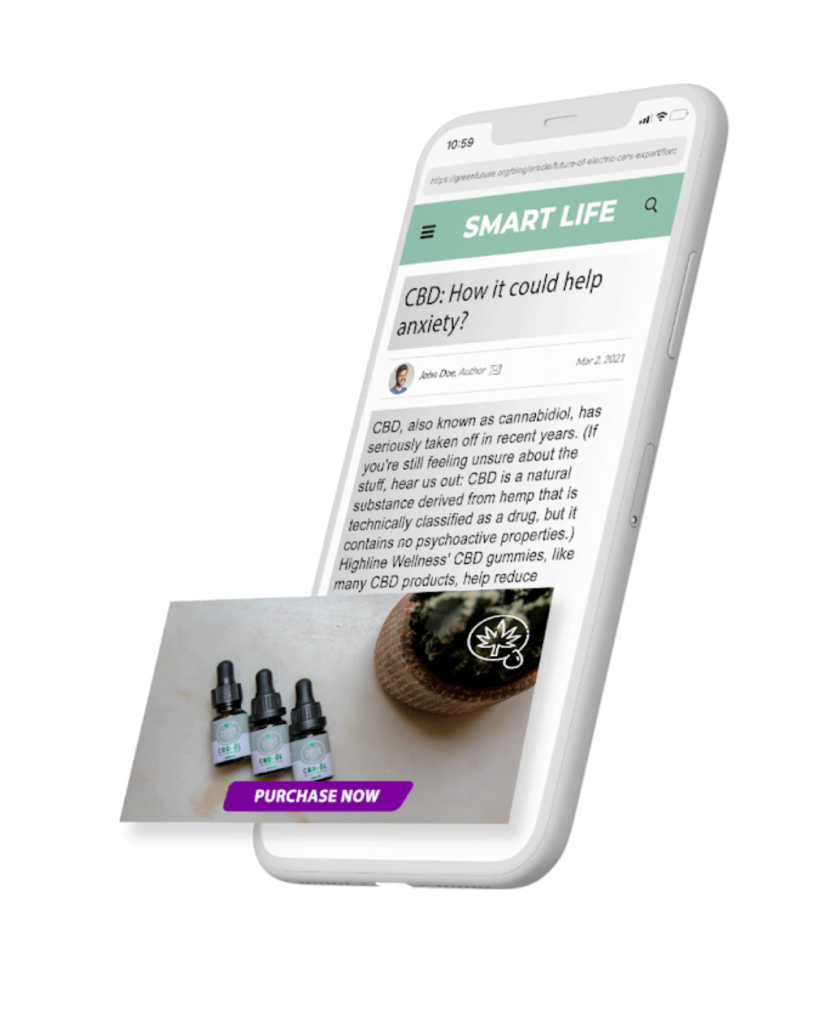 Scale: We collect premium publisher approval for both CBD and Cannabis ads to provide buyers with scale on high-quality content.
Simplicity: We provide ready-to-use Auction Packages, a curation of prime inventory across several publishers – so buyers gain time and can maximize campaign coverage.
Targeting: We offer a Custom Semantic Segment to precisely match CBD and Cannabis consumers. Our Cannabis custom segment has more than 2 billion avails/month and continues to grow.
Buyer Support: Our easy-to-use DSP assists buyers in purchasing CBD and Cannabis compliant inventory through easy, self-serve tools and allows you to begin immediate testing.
---
Ready to smoke the competition?