Smart launches direct-first platform to manage deals and private marketplace buying
Smart Buyer Connect empowers buyers to manage direct deals, bringing demand and supply closer together and improving value path optimisation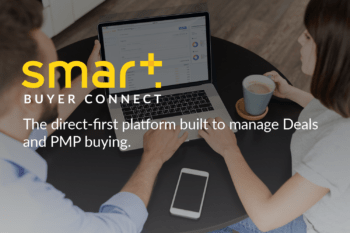 London, UK, 7th October, 2020: Smart has today announced the launch of Smart Buyer Connect (SBC), the direct-first platform built for advertisers to manage deals and private marketplace (PMP) buying. The product – which forecasts and facilitates media buying in real-time – is further evidence of Smart's mission to bring supply and demand closer together to deliver financial and operational efficiency for both advertisers and digital publishers.
2020 has seen a shift in the market, with advertisers moving away from open auctions towards private marketplaces as they seek more direct and transparent transactions – programmatic direct is expected to account for $65 billion of US digital display ad spend by 2022. Now, more than ever, buyers want fast, efficient, and trustworthy deal management –  this is what SBC offers. 
SBC is a platform that provides buyers with a suite of tools to efficiently operate their PMP transactions on Smart's inventory. Among these, the real-time media planning tool enables buyers to discover inventory with Smart's publishers, providing an overview of the entire volume of auctions available on Smart's supply side platform (SSP). With full visibility of the publishers available, buyers can create completely customisable auction packages in minutes, selecting bespoke targeting parameters – including formats, performance, audience segments, and semantic context – and immediately evaluating the reach they will achieve within a cross-publisher environment.
SBC provides autonomy to buyers to manage their own deals with powerful troubleshooting tools that address delivery issues during set up, as well as improve the delivery rate of live deals. These tools combined bring buyers and sellers closer together: reducing the time it takes to trade on media while boosting transparency and efficiency. The platform is complementary to demand side platforms (DSPs) and will further evolve to meet changing buyer needs. 
"At Smart, we take a shared-interest business approach, serving the needs of both the demand and supply side, rather than the needs of the middleman", commented Arnaud Creput, CEO of Smart. "We are very pleased to announce the launch of SBC to support this approach – facilitating direct and high-performing deals that improve our buyers' user experience and results. In this way, we hope to rebuild trust within programmatic trading, offering value path optimisation built fundamentally on transparency, accountability, and data security."
 For more information, please consult our dedicated webpage
About Smart AdServer 
Smart is the leading independent adtech platform built to serve the interests of both buyers and publishers. Smart's fully transparent platform and shared-interest business approach enables brands and premium publishers to get their fair share of ad value at every opportunity, on their terms. Brands can achieve greater efficiency through their advertising spend, and publishers can act with certainty and have the control they need to provide the right blend of transaction models, channels, formats, and audience data to deliver true value path optimization to brands. 
Smart works directly with hundreds of buyers and more than 1,000 publishers worldwide including Groupe Marie Claire, TracFone, Le Figaro, Leboncoin, Altice Media Publicité, and IMGUR to deliver display, video, native, and rich-media ads to over 50,000 sites and apps. Smart is ranked on the Deloitte Technology Fast 500 EMEA and in the Financial Times' FT 1000: Europe's Fastest Growing Companies. The company operates 12 offices worldwide and leads the charge in building a transparent ecosystem based on quality. Smart is a "GDPR ready" company as certified by independent data protection specialist, ePrivacy GmbH.