November 10th, 2020 – Following the success of the Summer Adtech Virtual Event hosted beginning of July, Smart, Samsung Ads, LiveRamp, MediaMath, Captify and MadHive come together to organise the festival's second edition. The "Winter Adtech Virtual Event" will be held from the 7th-9th of December 2020 and accessible for all.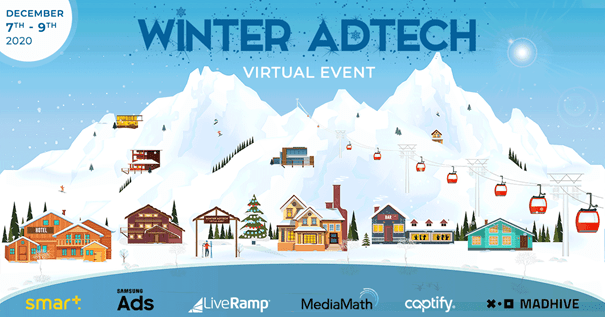 While 2020 has been a tough year with too few occasions to meet in person, the digital advertising world continues to evolve with key challenges and opportunities that will keep industry players busy in the coming months. Connected TV, user identity, the emerging consent economy, the boom of private marketplaces, and value path optimization are among the major topics that will inspire discussion and debate.
Hosted by Smart, Samsung Ads, LiveRamp, MediaMath, Captify and MadHive who will welcome the audience in a virtual privatized ski resort, Winter Adtech Virtual Event features a series of more than 15 round tables, bringing market experts together to share insights and debate the key topics in digital media. It also seeks to help reinforce the personal connections between customers, partners, and friends.
"Our industry never sleeps, which is what makes it so fascinating. Digital advertising is moving fast and as the complexity continues to grow, it is more important than ever before to come together to learn, to share ideas and to join forces to find the right solutions. That's why we joined with partners to create the Winter Adtech Virtual Event. Join the conversation and enjoy hot chocolate and comfy blankets… from home!" comments Arnaud Créput – Smart's CEO.
Registrations, updated program, agenda and speakers for this cooperative festival are on the event's website.
About Smart AdServer
Smart is the leading independent ad tech platform built to serve the interests of both buyers and publishers. Smart's fully transparent platform and shared-interest business approach enables brands and premium publishers to get their fair share of ad value at every opportunity, on their terms. Brands can achieve greater efficiency through their advertising spend, and publishers can act with certainty and have the control they need to provide the right blend of transaction models, channels, formats, and audience data to deliver true value path optimization to brands.
Smart works directly with hundreds of buyers and more than 1,000 publishers worldwide including Groupe Marie Claire, TracFone, Le Figaro, Leboncoin, Altice Media Publicité, and IMGUR to deliver display, video, native, and rich-media ads to over 50,000 sites and apps. Smart is ranked on the Deloitte Technology Fast 500 EMEA and in the Financial Times' FT 1000: Europe's Fastest Growing Companies. The company operates 12 offices worldwide and leads the charge in building a transparent ecosystem based on quality. Smart is a "GDPR ready" company as certified by independent data protection specialist, ePrivacy GmbH.
About Samsung Ads
Samsung Ads delivers advanced TV advertising at scale. Our smart TV advertising solutions are built on a unique source of TV data from more than 34M Smart TVs across Europe. Samsung Ads provides the holistic view advertisers need, connecting linear, OTT, and gaming to help brands see the total advanced TV picture. Brands turn to our managed service and programmatic offerings to achieve incremental reach, compliment linear TV campaigns, manage frequency, find difficult-to-reach audiences and most importantly, measure outcomes. Launched in 2015, Samsung Ads has offices in the United States, the United Kingdom, Germany, Canada, South Korea, and Australia. Samsung Ads is a division of Samsung Electronics and is the #1 TV manufacturer globally.
About LiveRamp
LiveRamp is the leading data connectivity platform for the safe and effective use of data. Powered by core identity capabilities and an unparalleled network, LiveRamp enables companies and their partners to better connect, control, and activate data to transform customer experiences and generate more valuable business outcomes. LiveRamp's fully interoperable and neutral infrastructure delivers end-to-end addressability for the world's top brands, agencies, and publishers. For more information, visit www.LiveRamp.com.
About MediaMath
MediaMath helps the world's top brands deliver personalized digital advertising across all connected touchpoints. Over 9,500 marketers in 42 countries use our enterprise software every day to launch, analyze, and optimize their digital advertising campaigns across display, native, mobile, video, audio, digital out of home, and advanced TV formats. Founded in 2007 as a pioneer in "programmatic" advertising, MediaMath is recognized as a Leader in the Gartner 2019 Magic Quadrant for Ad Tech and has won Best Account Support by a Technology Company for two years in a row in the AdExchanger Awards.
MediaMath initiated an industry-wide effort to create a 100% accountable, addressable and aligned supply chain through the SOURCE ecosystem. SOURCE by MediaMath is a constellation of agencies, brands, tech companies, and content owners designed to provide long-term sustainable solutions for a modern digital media supply chain with quality brand-safe, viewable inventory inside of a flexible, future-proofed platform that converts impressions into ROAS at scale. MediaMath has offices in 15 cities worldwide and is headquartered in New York City. To learn more about how MediaMath helps innovative marketers delight their customers and drive real business outcomes, follow us at @mediamath or visit www.mediamath.com
About Captify
Captify is the largest holder of consumer search data outside of Google, and its unique technology understands the intent of consumers across all channels, including voice Search, desktop on-site search and in-app search. Captify's privacy-centric Search Intelligence technology powers programmatic advertising and unique audience insights for the world's biggest brands, such as Apple, Disney, Adidas, American Express and Microsoft.
About MadHive
MadHive is an enterprise software platform that powers modern media. MadHive's platform provides tools for audience forecasting, precision targeting and activation, and cross-screen attribution against its proprietary household-first device graph. Customers include advertisers that leverage MadHive's next-generation cryptography and AI to prevent fraud and increase margins, and broadcast giants that rely on the platform to power their linear reach extension offerings.