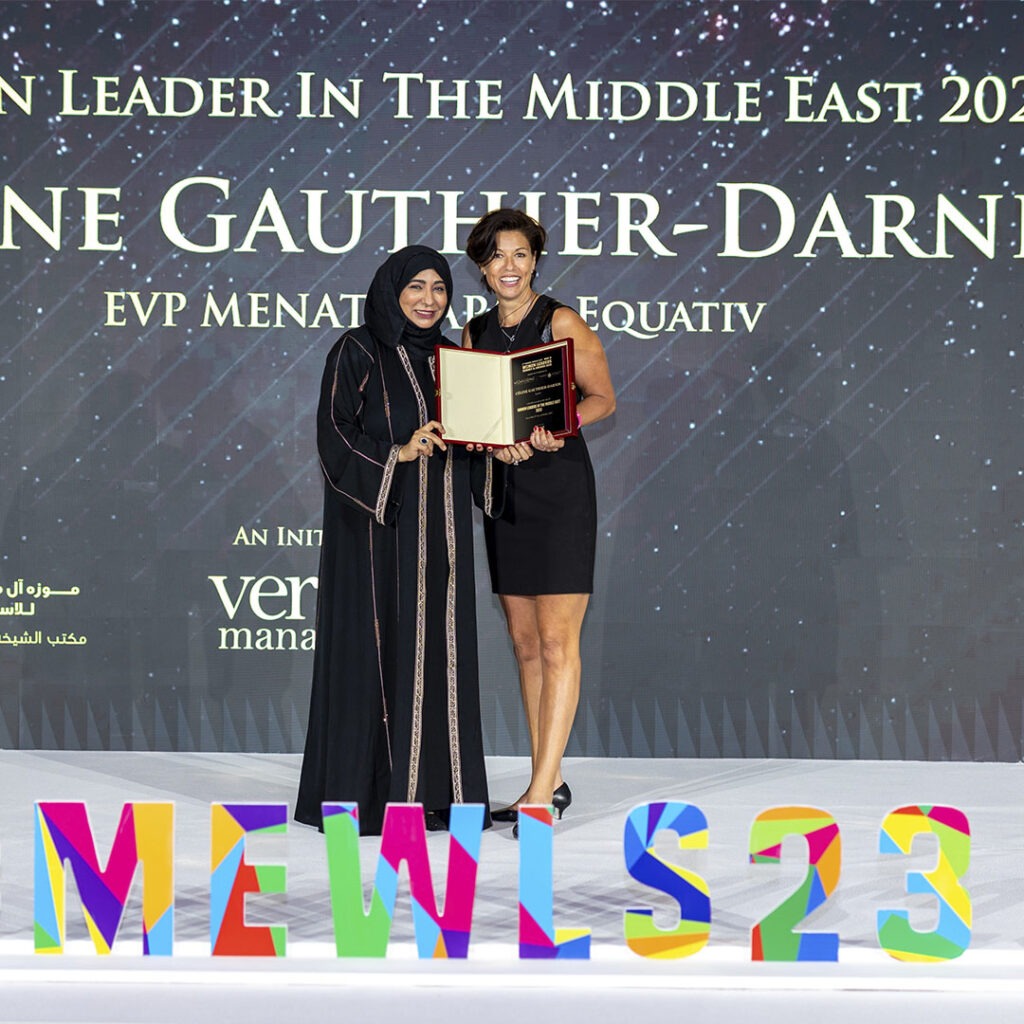 The annual Middle East Women Leaders Summit and Awards focuses on breaking barriers and celebrating the accomplishments of female leaders.

This year our APAC and MENA EVP Céline Gauthier-Darnis was named a Top 15 Women Leader in the Middle East.
In the spirit of the event, we asked her a few questions about her career journey, the lessons she's learned, and the advice she would share with others on their path to leadership.
Q. What inspires you on a daily basis?
I'm inspired by human connections and interactions and animated by successful achievements and actions.
My love of sports gave me the opportunity and the ability to become a competitive person. It helps me to work, develop new beliefs, and remain eager to be successful. I'm a true believer that values such as tenacity, consistency, resiliency, and determination are strengths needed to succeed.
Nothing can stop you from achieving when you combine vision, communication, emotion, empathy, and confidence!
Q. Looking back on your career, what stands out as the most memorable moment or your biggest win?
The day I unlocked a massive business opportunity after a few months of hard work building trust and convincing the client they should use our digital advertising products.
This business win was the beginning of our successful entrepreneurial journey as it offered me the opportunity to raise a great amount of funds from European venture capital to accelerate our growth by opening new offices in the Americas.
Q. What are some of the challenges you've faced along the way and what helped you overcome them?
Of course, we all face challenges every day. The most important thing is how you prepare to face them and how you tackle them. The more you trust yourself, the more prepared you will be.
I've always believed challenges – whether mental or physical – make you more experienced and stronger. Hard times stimulate your growth as you learn from struggles and benefit from mistakes. As the saying goes, "That which does not kill us makes us stronger." So, finding a solution to a problem is probably the challenge that gives me the greatest satisfaction.
Optimism, positive thinking, resilience, and confidence are my best skills in facing challenges. I also believe there are some challenges you need help with and it's ok to ask for support. But, challenges need to be embraced for success later in life.
Q. What advice would you give to other women striving to break barriers in their careers?
Your power is within you. The most important thing is to believe in yourself and to work on your self-esteem. No human is perfect and failure is not fatal. It's the courage to continue that counts.
Make sure you always give your best, don't make excuses, and don't give up because regret is the worst feeling.
Q. What would you change about the world for women if you could?
If I could, I'd fight for more gender equality and women's rights in our society. I actively work to do all I can to help reshape the conversation. In my day-to-day, I strive to demonstrate why women's roles are so important in our work organizations and support/mentor/coach women in their struggles.
I can proudly say that Equativ encourages and empowers women by providing equal authority and initiatives. We invest in training, mentoring, equality programs, and promotion into senior-level positions with the goal of creating distinguished leaders to ensure career growth.