Global Adtech Media Event : Smart, Liveramp, ID5, Gameloft, HUMAN, ShowHeroes, BCN, JW Player et Reach PLC présentent leur festival "glocal" de la publicité et des médias.

Communiqué de presse – Paris le 10 mai 2021
Après le succès du Summer Adtech et du Winter Adtech Virtual Event en 2020, plusieurs acteurs de l'écosystème des médias et de la publicité digitale se sont réunis pour organiser la 3e édition du festival. A l'initiative de Smart et en partenariat avec Liveramp, ID5, Gameloft, HUMAN (anciennement WhiteOps), ShowHeroes, BCN, JW Player et Reach PLC, le Global Adtech Media Event aura lieu du 7 au 10 juin 2021 et sera accessible en ligne pour tous.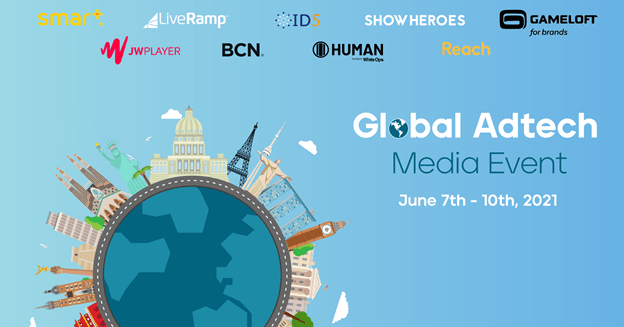 Alors que les voyages internationaux et la possibilité de se rencontrer en personne sont encore incertains, l'industrie de la publicité digitale continue d'évoluer. Dans ce contexte d'innovation, il est nécessaire pour les professionnels du secteur de se réunir pour discuter des défis et des opportunités qui impactent aussi bien les annonceurs, les éditeurs et les acteurs adtech.
Le Global Adtech Media Event entre dans une nouvelle dimension en présentant les tendances du marché à travers des perspectives à la fois globales et locales : une série de plus de 25 tables rondes, présentées pour certaines en anglais, pour d'autres en langue locale. Des experts de l'écosystème représentant les Amériques, l'EMEA, le LATAM et l'APAC se joindront à l'événement pour donner leur avis et discuter les sujets clés de l'identity, du programmatique, de la télévision segmentée et plus encore.
Pour que l'événement reste divertissant et contribue à renforcer les liens personnels entre clients, amis et partenaires, Smart, BCN, ID5, JW Player, Gameloft, HUMAN (anciennement WhiteOps), Liveramp, Reach PLC et ShowHeroes accueilleront le public aux quatre coins du monde dans leurs bus, bateaux, montgolfières, jets et sous-marins privés virtuels.
« Alors que la plupart des sujets de notre secteur sont traités au niveau mondial, il n'est plus possible d'ignorer que les réglementations, les cultures, les pratiques et les organisations locales influencent chaque marché de manière unique. Le Global Adtech Media Event vise à refléter la diversité du paysage de la publicité digitale et à répondre aux préoccupations de chaque acteur du secteur. Nous sommes très heureux qu'une fois de plus, les partenaires se soient empressés de participer et qu'un fort esprit de collaboration rende cet événement possible. Profitez-en depuis votre domicile ou votre bureau, avec votre passeport adtech et votre coussin de voyage ! » commente Arnaud Créput – PDG de Smart.
Les inscriptions, le programme actualisé, l'agenda et les intervenants de ce festival sont sur le site de l'événement.
About Smart
Smart is the leading independent adtech platform built to serve the interests of both buyers and publishers. Smart's fully transparent platform and shared-interest business approach enables brands and premium publishers to get their fair share of ad value at every opportunity, on their terms. Brands can achieve greater efficiency through their advertising spend, and publishers can act with certainty and have the control they need to provide the right blend of transaction models, channels, formats, and audience data to deliver true value path optimization to brands.
Smart works directly with hundreds of buyers and more than 1,000 publishers worldwide including Groupe Marie Claire, TracFone, Le Figaro, Leboncoin, Altice Media Publicité, and IMGUR to deliver display, video, native, and rich-media ads to over 50,000 sites and apps. Smart is ranked on the Deloitte Technology Fast 500 EMEA and in the Financial Times' FT 1000: Europe's Fastest Growing Companies. The company operates 12 offices worldwide and leads the charge in building a transparent ecosystem based on quality.
About BCN
As the central marketer of the Hubert Burda Media group, the Burda Community Network (BCN) is an internationally positioned sales network. BCN connects the brand worlds of commercial enterprises with the thematic areas covered by Hubert Burda Media and its external clients. The innovative organisational structure, which includes two market divisions (Client Services for Advertising Clients as well as Media Sales and Digital Media for Agencies), enables to create cross-media and cross-technology communication solutions quickly and efficiently.
BCN is a leader among European magazine marketers with a 16,5 per cent share of the national advertising market and a turnover of EUR 534 million (source: Nielsen Media Research 2020). That makes BCN the first stop for media and sales professionals who want to actively shape the future rather than simply manage it.
About ID5
ID5 was created to improve online advertising for consumers, media owners and advertisers, with the ultimate goal to help publishers grow sustainable revenue.
ID5 provides the advertising ecosystem with a transparent, scalable and privacy-compliant identity infrastructure. Its solutions improve user recognition and match rates and provide a stable, consented and encrypted user ID to replace third-party cookies and MAIDs. This enables publishers to better monetise their audiences, advertisers to run effective and measurable campaigns, and platforms to maximise the value of data and inventory for their customers.
Created in 2017 by seasoned ad tech professionals, ID5 services clients globally. For more information about ID5 and its solutions, please visit: www.id5.io
About JW Player
JW Player pioneered video on the web over a decade ago and continues to innovate as the world's largest network-independent platform for video delivery and intelligence. Media companies including Fox, VICE, Insider Inc., and Univision, in addition to hundreds of thousands of creators of all types and sizes, rely on JW Player to deliver and monetize their content across all devices. JW Player's massive global footprint of over 2 billion unique devices creates a powerful data graph of unique consumer insights and generates billions of incremental video views. The company is headquartered in New York, with offices in London and Eindhoven, visit http://www.jwplayer.com.
About Gameloft
Leader in the development and publishing of games, Gameloft® has established itself as one of the top innovators in its field since 2000. Gameloft creates games for all digital platforms, two of which are featured in the "Top 10 iOS Games by All-Time Worldwide Downloads" from App Annie. Gameloft operates its own established franchises such as Asphalt®, Dragon Mania Legends, Modern Combat and Dungeon Hunter and also partners with major rights holders including Disney®, LEGO®, Universal, Illumination Entertainment, Hasbro®, Fox Digital Entertainment, Mattel®, Lamborghini® and Ferrari®. Gameloft distributes its games in over 100 countries and employs 4,000 people worldwide. Every month, 80 million unique users can be reached by advertisers in Gameloft games with Gameloft for brands, a leading B2B offering dedicated to brands and agencies. Gameloft is a Vivendi company.
About HUMAN
HUMAN is a cybersecurity company that protects enterprises from bot attacks to keep digital experiences human.  We have the most advanced Human Verification Engine that protects applications, APIs and digital media from bot attacks, preventing losses and improving the digital experience for real humans. Today we verify the humanity of more than 10 trillion interactions per week for some of the largest companies and internet platforms. Protect your digital business with HUMAN. To Know Who's Real,  visit www.humansecurity.com.
About LiveRamp
LiveRamp is the leading data connectivity platform for the safe and effective use of data. Powered by core identity capabilities and an unparalleled network, LiveRamp enables companies and their partners to better connect, control, and activate data to transform customer experiences and generate more valuable business outcomes. LiveRamp's fully interoperable and neutral infrastructure delivers end-to-end addressability for the world's top brands, agencies, and publishers. For more information, visit www.LiveRamp.com.
About Reach plc
Reach plc is the largest commercial national and regional news publisher in the UK with a growing portfolio in Ireland. We create engaging, differentiated content which is distributed through newspapers, magazines and digital platforms – playing a central role in our audiences' daily lives. Our national and regional brands have a long heritage of being trusted sources of the latest news, information, sport and entertainment, offering a range of opportunities to connect brands with consumers. With one of the biggest monthly multi-platform audiences in the UK, Reach's national and regional news brands are prominent champions, campaigners and changemakers.
About ShowHeroes
ShowHeroes is Europe's leading, independent provider of video solutions for digital publishers and advertisers. Its proprietary video platform consists of a library of thousands of unique video content clips, efficient video asset and playlist management, a sleek and modern video player, as well as cutting edge video advertising technology and in-depth reporting tools for both – publishers and advertisers. The center of this ecosystem is the ShowHeroes semantic matching engine: It ensures a smooth video experience by delivering matching video content and ads across all connected sites and apps.