Summer Adtech Virtual Event : Smart, Beeswax, LiquidM, Mediarithmics, Pubstack, ShowHeroes, Sublime, Union et Venatus présentent leur festival en ligne.
Communiqué de presse – Paris le 27 Mai 2020
Smart, Beeswax, LiquidM, Mediarithmics, Pubstack, ShowHeroes, Sublime, Union et Venatus s'unissent pour organiser ensemble "Summer Adtech Virtual Event", un festival en ligne, ouvert et accessible à tous du 22 au 26 juin 2020.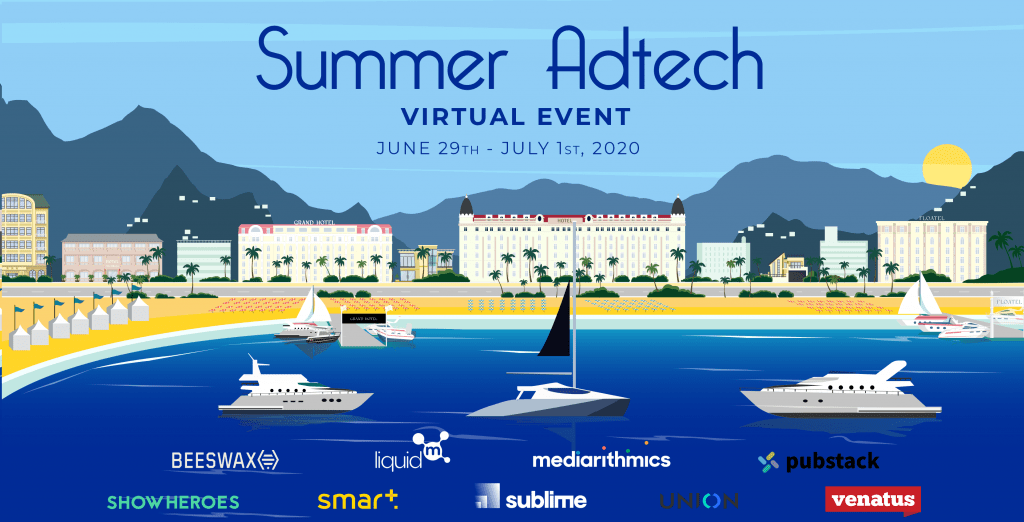 Alors que de nombreux événements ont été annulés cette année et ne rouvriront pas leurs portes avant 2021, le festival "Summer Adtech Virtual Event" a pour vocation de rassembler l'ensemble des acteurs des secteurs de la publicité digitale et des médias. Au programme de cette semaine 100% virtuelle : une série de tables rondes et de témoignages d'experts pour échanger et débattre autour des sujets clés de l'écosystème, mais également pour entretenir les liens entre clients, partenaires et amis.
L'objectif de Summer Adtech Virtual Event est de conserver une atmosphère festive, c'est pourquoi Smart, Beeswax, LiquidM, Mediarithmics, Pubstack, ShowHeroes, Sublime, Union & Venatus accueilleront les participants sur leurs yachts, plages, rooftops et autres villas virtuelles.
« Beaucoup d'entre nous ressentiront un manque avec l'annulation de nos rendez-vous estivaux. Discussions inspirantes, networking et relations clients, sans parler du rosé, du champagne, des bateaux et des soirées… C'est donc pour apporter un peu de plaisir et beaucoup d'échanges que nous avons créé le Summer Adtech Virtual Event et je suis ravi que nos partenaires partagent cet enthousiasme à travailler collectivement sur ce projet », commente Arnaud Créput – PDG de Smart.
Le programme complet de l'événement, l'agenda des conférences et la liste des partenaires supplémentaires seront annoncés très prochainement sur le site de l'événement.
About Smart (www.smartadserver.com)
Smart is the leading independent ad monetization platform built for premium publishers to serve demanding buyers. Our fully transparent platform and shared-interest business approach enables premium publishers and brands to get their fair share of ad value at every opportunity, on their terms. Publishers can act with certainty and have the control of all the variables for the right blend of transaction models, channels and formats while activating the right audience data for value path optimization. Smart works directly with more than 1,000 publishers worldwide including Groupe Marie Claire, TracFone, Le Figaro, Leboncoin, Altice Media Publicité, and IMGUR to deliver display, video, native, and rich-media ads to over 50,000 sites and apps. Smart is ranked on the Deloitte Technology Fast 500 EMEA and in the Financial Times' FT 1000: Europe's Fastest Growing Companies. Smart operates 12 offices worldwide and leads the charge in building a transparent ecosystem based on quality. Smart is a "GDPR ready" company as certified by independent data protection specialist, ePrivacy GmbH.
About Beeswax
Beeswax was founded in 2014 by industry veterans who recognized that traditional, one-size-fits-all DSPs, originally designed for an agency model, are under-serving today's sophisticated media buyers. It's Bidder-as-a-Service™ platform enables brands, media companies, and advertising technology firms to gain greater control, flexibility, and transparency over their programmatic advertising. The Company is based in New York City and investors include The Foundry Group, RRE Ventures, Amasia.vc, You & Mr. Jones, and SV Angel.
About LiquidM
Founded in Berlin in 2013, LiquidM is one of the first self-service Demand Side Platforms (DSP) on the market. For years, we've empowered businesses to harness the power of programmatic tools and omnichannel advertising to reach, engage, and connect with relevant audiences worldwide. Thanks to comprehensive campaign management features, quality supply, and superior technical support, our platform supports direct advertisers, agencies, and trading desks in their pursuit of meaningful conversions and better ROIs.
About mediarithmics
mediarithmics offers an open and integrated data marketing infrastructure, covering all DMP and CDP uses. The platform can also be used to create Data Alliances, guaranteeing the security of data between partners whilst complying with current and future regulations.
Our technology enables the collection of every customer and prospect's data without compression, allowing segmentation and activation of multi-channel campaigns in real time. mediarithmics' clients can add their own algorithms to personalise the platforms strategic points, whether it be on 360° marketing personalisation or Data monetisation use cases.
About Pubstack
Pubstack empowers publishers' monetisation teams with real-time ad revenue analytics to help them make better decisions and maximize their outcome.
Over the last few years, the Ad Tech industry has become a complex business, where publishers gradually lost control over their revenues.
At Pubstack we want to reverse the trend. We want to help publishers thrive in an increasingly complex programmatic world and take back control over their revenues.
About ShowHeroes
ShowHeroes is Europe's leading, independent provider of video solutions for digital publishers and advertisers. Its proprietary video platform consists of a library of thousands of unique video content clips, efficient video asset and playlist management, a sleek and modern video player, as well as cutting edge video advertising technology and in-depth reporting tools for both – publishers and advertisers. The center of this ecosystem is the ShowHeroes semantic matching engine: It ensures a smooth video experience by delivering matching video content and ads across all connected sites and apps.
Launched in May 2016 in Berlin by Ilhan Zengin, Dennis Kirschner and Mario Tiedemann, ShowHeroes has a continent-wide presence with offices in more than 10 cities, including Berlin, Hamburg, Riga, Düsseldorf, Moscow, St. Petersburg, Amsterdam, Vienna and Paris. The company has 100 employees and its videos make more than a billion impressions per month.
About Sublime
Sublime creates and delivers ad experiences that activate, captivate and inspire digital audiences at scale. It offers a high-impact solution where market-leading technology is combined with a creative-first approach; Sublime simplifies the delivery of premium, non-intrusive digital ad formats that elevate brand equity, drive results, and enhance the user experience. It is committed to breaking the mould in creative innovation, while delivering the highest level of service and support. Founded in 2012, the Paris-based company has offices in London, Hamburg, Madrid, Milan and Singapore, and delivers direct and programmatic advertising campaigns across the globe. For more information, please visit www.sublime.xyz
About Union
Union is a joint venture between five leading EMEA video technology providers that enables global brands to activate video campaigns on the sites that really matter to their local audiences. Union provides video content, monetisation and technology to thousands of local market websites across the EMEA region. These strategic partnerships generate a unique blend of pre-roll and outstream video formats for advertisers to target. This is achieved using a powerful combination of programmatic and contextual targeting to reach nearly 300 million users on relevant, premium, brand safe publishers. Union's publisher partners include global brands such as Marie Claire, Elle, Vanity Fair and CNN, as well as leading local publishers such as Aller Media, Axel Springer, Stryia, Libero and Funke Media Group.
About Venatus
Venatus is a global advertising technology platform, focused on gaming and entertainment. 
Co-founded by Robert Gay and Matt Cannon in 2010, Venatus was created to provide advertisers with direct access to gaming audiences. As the gaming ecosystem expanded, Venatus has remained at the forefront of the industry, gaining unique access to gaming and esports publishers for global brands. 
Venatus exclusively represents the direct and programmatic ad sales for over 600 publishers, including Rovio, EA, Rolling Stone, OP.GG, What Culture and FUTBIN. Supported by in-house sales teams delivering award-winning creative campaigns for the likes of Unilever, BBC, Universal, Hasbro, Activision and Intel.
Now in its 10th year of business, Venatus has offices in London, Paris, New York, Los Angeles, Sydney and Seoul.