End-Users Privacy Policy
Summary
Smart AdServer is a French company specializing in digital advertising. Our clients, in particular website publishers, mobile applications, ask us to select and display ads on their environments, according to various criteria, such as your interests, your location, the type of device used, or the content of the page visited, etc.
– We do not process any sensitive or personally identifiable data, we use pseudonymous identifiers;
– We only process your personal data necessary for the personalization of the advertisements if you give us your consent (through the banners set up by the publishers);
– We do not sell your personal data and it is protected according to security standards in compliance with the regulations.
You will find on this page all the details on our operation and the various means to assert your rights.
1. Who are we?
Smart AdServer ("Smart", "our", "us", "we") is an ad monetization platform, Supply Side Platform ("Platform") providing programmatic buyers with exclusive access to high quality premium publisher ("Clients") inventory, i.e. the websites you are visiting and/or services you are using. As an independent, publisher-focused platform, we help our Clients monetize their digital inventories ("Services") so that they can continue offering users ("Users", "you", "your") content.
Our technology gathers User information to optimize the delivery of digital advertising to you. We use this information to effectively display ads on any connected devices you are using to deliver, tailor advertising to you, when permitted and for statistical reporting and analytics purposes, as explained below.
Smart AdServer is located at 66 rue de la Chaussée d'Antin, 75009 Paris, France. If you have any questions regarding privacy, you can contact us at privacy@smartadserver.com.
The purpose of this Privacy Policy is to explain what information we gather, for which purposes, how we use that information and what we do to protect it. This policy provides details about choices you can make with regards to how we gather and use information about you ("Personal Data"). This Privacy Policy applies when we collect your Personal Data when navigating on websites, mobiles and/or applications of our Clients using our Services and/or on any connected devices. For more information regarding the processing of your Personal Data when navigating on our corporate website please read our Corporate Privacy Policy here. For more information on the cookies used when navigating on our corporate website, please check our Cookies Policy here.
SmartAdserver participates in the IAB Europe Transparency & Consent Framework and complies with its Specifications and Policies.Our identification number within the Framework is ID45.
2. How do we collect data?
Smart uses technologies like cookies, tags, and mobile SDKs to collect the data and store it on a User's device.
Cookies are small text files that contain a string of characters, stored in the User's device. They allow us to recognize and remember the user's browser, preferences and other information.
The Smart tag is a small piece of code that is inserted into a Client's website source code, which allows them to have access and manage our services.
An SDK, or Software Development Kit, is the software used by our Clients to integrate Smart to their mobile application (iOS and Android).
Web beacons are used to help our Clients understand how visitors interact with their websites. Pixel tags are transparent images, iFrames, or JavaScript that are placed on a site. The use of a pixel tag allows a website to measure the actions of the visitor opening the page that contains the tag.
3. What data do we process?
When navigating on our Client's websites,mobiles and/or application and/or on any connected devices (including connected TV) we may collect:
– cookie information, for example your unique browser ID (Smart ID; universal identifier when applicable);
– technical information about the device: browser, operating system, screen size;
– information about the geographic location of the device when it accesses a website;
– pseudonymous ID of audience segmentation (if the website uses this type of system);
– information about other identifiers assigned to the device (IDFA, AAID);
– information about the user's activity on the device, including web pages and mobile apps visited or used.
Please note that as part of our Services we do not collect any information that could directly identify you. This means we do not know who you are. We do not know your name, your address, your place of work, your date of birth, your email address, or your phone number. We do not collect sensitive information (such as your religious affiliation, political opinions or health details). We do not create segments, so we do not specifically target children under 16 years old.
4. For which purposes and on which legal grounds will Personal Data be processed?
a. Purposes
Smart receives, collects or processes Personal Data for the following purposes:
– Store and/or access information on a device;
– Select basic ads;
– Select personalized ads;
– Measure ad performance;
– Develop and improve products;
– Ensure security, prevent fraud, and debug;
– Technically deliver ads or content;
– Use precise geolocation data.
b. Legal grounds
When we are operating as a data controller, meaning that we determine the purposes and the means of the processing, we rely on either: i) User consent, if required; or ii) our legitimate interest.
When we are operating as a data processor, we are processing the data on behalf of our Clients based on their instructions. Therefore, they are accountable for the establishment of an appropriate legal basis for the processing of the data. You can find this information in their own Privacy Policy available on their website.
5. To whom do we provide your Personal Data? Who can have access to your Personal Data?
We may share information, including Personal Data, to our affiliates and with trusted third parties that provide services for Smart, such as hosting and internet connectivity, Demand-Side Partners (DSP), third-party data providers or advertisers, and anti-fraud tools providers. When permitted we may also share data with trusted business partners in order to perform or enhance our products and services.
We may also disclose information if:
– we are required by national or international law or legislation to do so;
– we must comply with an authorized request or demand;
– it is necessary in order to defend our own rights or interests.
Finally, we may transfer your data to a successor entity in connection with a corporate merger, consolidation, sale of assets, bankruptcy, or other corporate change.
6. How long do we store the data?
The data we use to provide our Services is being kept up to thirteen months, depending on the cookie or tag storing it. For more details about the storage duration, please see the table below.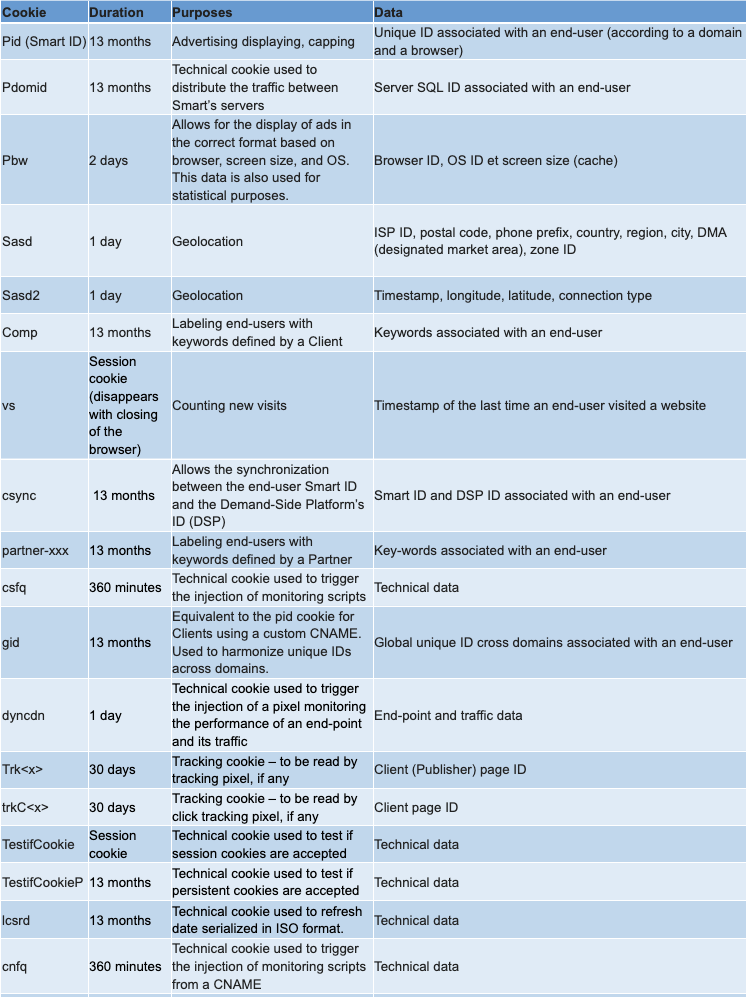 We may also store your personal data contained in our logs for up to 40 days.
7. Your GDPR privacy rights
When we are operating as a data controller, you can exercise your rights directly to us. Please note that we do process Personal Data on behalf of Publishers. In some cases, it may be appropriate for you to exercise your rights directly on the website of the Publisher of your choice.
You may ask us at any time:
– to confirm your Personal Data is being processed and/or to provide you a copy of your Personal Data;
– to rectify your Personal Data if it is inaccurate or incomplete;
– to withdraw your consent;
– to erase your Personal Data, for instance if it is unlawfully processed or if you withdraw your consent;
– to opt out the process of any data;
– to restrict the processing of your Personal Data, (i) if the information is inaccurate, (ii) the processing is unlawful, (iii) you need us to retain the information after the retention for a legal claim, or (iv) you have objected to the processing and a verification of our legitimate interests is pending;
– to provide you with an electronic file of your Personal Data, or to transfer your Personal Data to a third party, if technically feasible (portability).
Before sending any requests, please note and consider that it is not feasible for us to provide Personal Data that is tied to your identity. Instead, you can provide us with your Smart AdServer ID and/or mobile ID and we will be able to connect to this information with the Personal Data tied to this ID (see section: How to find your advertising ID below).
Your request should be addressed to privacy@smartadserver.com. We will respond within one month. If permitted under applicable legislation, we may extend the response period to two months if such is necessary due to the complexity and number of requests. We will notify and explain the reasons for any extension to you. If we deny your request, we will inform you of the reasons for such denial.
If you consider your rights have been infringed upon according to the current privacy regulation, or regarding the denial of a request, you may lodge a complaint towards your local competent supervisory authority.
How to find your advertising ID
How to find your Smart AdServer ID on a browser:
You have the possibility to oppose the deposit of cookies and to have access to a list of your cookies by configuring your browser.
The links above will also guide you for the management and erasure of cookies within your browser.
How to find your ID on mobile:
– If you are using an iOS system (IDFA): for iOS devices, the advertising ID is hidden from users by default by Apple but can be retrieved with third-party apps. In order to find your Apple IDFA, a third party tool is required. There is wide selection of apps that can show a device's IDFA to users

– Adjust Insights by Adjust
– Branch Device ID Finder, by Branch
– My Device Identifiers, by Kochava
– Singular Device Assist, by Singular Labs

– If you are using an Android system (AAID): for Android devices, open the Google Setting app on your device and click on "Ads". Your AAID will be listed at the bottom of the screen.
8. Your CCPA Privacy Rights
This section of the Privacy Policy is aimed solely at providing relevant information to California residents under the California Consumer Protection Act (CCPA).
When you are navigating on our Client's websites and/or using their apps on your devices, we may collect Personal Information, notably via the use of cookies or other tracking technologies.
CCPA Personal Information (CCPA PI) is defined by California law as information that identifies, relates to, describes, is capable of being associated with, or could reasonably be linked, directly or indirectly, with California consumers or households.
When doing so we are acting as a Service Provider, providing adserving and real time bidding Services to the Clients.
For information on the categories of CCPA PI we collect, the sources from which the CCPA PI is collected, the purposes of collecting those CCPA PI and with whom we may share those, please refer to the sections above.
If you are California resident, the CCPA grants you several rights:
– The Right to request disclosure of CCPA PI a Business collects, uses, shares or sells about you We are committed to ensuring that you know what information we collect, for more information please refer to the 'what data do we process' section above or contact us directly at privacy@smartadserver.com
– The Right to request the deletion of your CCPA PI Upon your request, we will delete the CCPA PI we have collected about you, except for situations when that information is necessary for us to: provide you with a good or service that you requested; perform a contract we entered into with you; maintain the functionality or security of our systems; comply with or exercise rights provided by the law; or use the information internally in ways that are compatible with the context in which you provided the information to us, or that are reasonably aligned with your expectations based on your relationship with us.
– The Right to Opt-Out of 'Sales' of CCPA PI . As we are a Service Provider, we do not sell your personal information, therefore you will need to exercise your CCPA right by directly requesting the Publisher on which behalf we process your Personal Information.
– The Right to Non-Discrimination for the exercise of a Consumer's Privacy Rights We are committed to providing you control over your CCPA PI. If you exercise any of these rights explained in this section of the Privacy Policy, we will not disadvantage you. You will not be denied or charged different prices or rates for goods or services or provided a different level or quality of goods or services
You may however opt-out and/or request the deletion of your Personal Information we process for our own benefit by directly requesting us.
To exercise your right, please refer to the "opt-out and withdrawing of consent" section below or contact us at privacy@smartadserver.com
9. Transfer of Personal Data outside of the European Union
Personal Data may be transferred to our affiliates or a partner located outside the EU/EEA including to third-countries for which the European Commission has not adopted an adequacy decision yet. With these partners, we ensure that appropriate safeguards are implemented to ensure an adequate level of protection including but not limited to the signature of standard contractual clauses adopted by the European Commission.
10. Opt-out and withdrawing of consent
For the sake of transparency, Smart has adopted a cookie opt-out policy, allowing each Internet user to opt out from our advertising network. This ensures that your browser will no longer be identified by our system. Please note that for us to acknowledge your desire to opt-out, one cookie will be placed on your device in order to ensure the performance of your opt-out. Moreover, this opt-out will only be available for the device on which it was created. If you wish to opt-out, click here. A blank page will open, confirming the opt-out process has been completed and Smart will no longer place cookies on your computer.
You can withdraw your consent, as the case may be, at any time directly on the website.
You can also accept or reject some or all cookies (for example, blocking all third-party cookies) directly on your browser by adjusting your browser settings. However, please note that some websites may not be accessible or function properly if you decide to opt-out from all cookies. If you do not know how to do this, the links below set out information about how to change your browser settings for some of the most commonly used web browsers:
For mobile devices you can also refer to the following links:
11. How do we ensure the security of your Personal Data ?
In order to ensure and maintain the security of your Personal Data, we have implemented all technical and organizational measures at our disposal to prevent your data from being unintentionally and accidentally lost, used, altered, or made available to the public without your authorization.
Should such an event occur, we have implemented measures to react promptly and to inform you and the competent supervisory authority when necessary.
12. Amendment of this Privacy Policy
We reserve the right to update this Privacy Policy from time to time in order to reflect any change to our products or services or to comply with changes in our legal and/or regulatory obligations. Please check this page for any updates.
13. More questions?
If you have questions about this Privacy Policy, you may send us an e-mail at privacy@smartadserver.com or contact our DPO at dpo@smartadserver.com.
Last update: August 2022